CLUB HISTORY
Serving the Community Since 1941
The Sugar Land Lions Club was chartered by Lions Clubs International on May 5, 1941. The club, which had forty-three charter members, was sponsored by the Rosenberg Lions Club. The main purpose of the club is to promote a wide range of service projects to make the city of Sugar Land and Fort Bend County a better place to work and live. Each member is dedicated to the ethics and objectives of Lionism, and giving of their time, labor, and substance to help those who are less fortunate and to ensure we have a good community in which to live.
Congratulations to those Sugar Land Citizens who were to be pioneers of Lionism in our community.
1959 Sugar Land Baseball
These two photos were taken on May 22, 1959 at the opening of the new Little League ballpark at the corner of Wood and Kempner Streets. The first shows George Andre giving a speech in which he presented the property deed to the Sugar Land Lions Club, who built the park. (Imperial donated the land.) The second photo shows Sugar Land's two Little League teams, the St. Theresa Knights and the Sugar Land Lions.
Meetings & Presidents of Yesteryear
Sugar Land Lions in 1960s
James Kee (Lions Club) Presents A Check To Sterling Thomas & Heywood Davis Of The Raymond Freeman American Legion Post In Mayfield Park - 1960s.

Offficer installation announcements from 1960 and 1968
1967 Sugar Land City Pool
Lion Leon Anhaiser remembers as he was the acting City Parks Director, "The pool came about because the indoor pool at the school gym had been closed and the swimming holes around town were dangerous. We went door to door, asking for $25. The Lions were committed to raising the $35,000 the pool was going to cost. The city of Sugar Land was not involved at all." But the Imperial Sugar Co. was involved. "Yes, Imperial told us if we got half the money--$17,500—the Kempner Foundation would match that --very generous. We were almost there, but we went to the bank and borrowed just enough to get to our goal."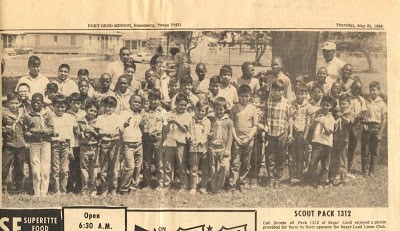 1968 Boy Scout Troop
This picture was published in The Fort Bend Mirror, May 23, 1968. It shows a Mayfield Park Cub Scout Troop 1312 sponsored by the Sugar Land Lions Club. We have been supporting Boy Scout Troops & Cub Scout Packs ever since.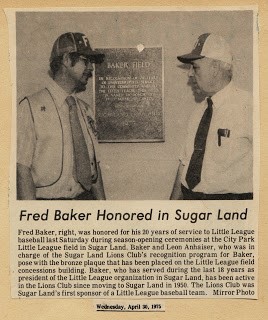 1975 Lion Fred Baker
Mr. Baker (as we knew him) was a real supporter of youth baseball in Sugar Land. As a member of the Lions Club, he assumed responsibility for maintaining the Little League fields & administering team affiliations with the national organization. Lion Ella remembers seeing him mow the field at the corner of Wood & Highway-90A many times. He may have been president, but he didn't mind getting his hands dirty with routine work.
Many younger people will know the main field in the 7th Street Park is named after him. We think the plaque in this picture is affixed to a wall of the press box,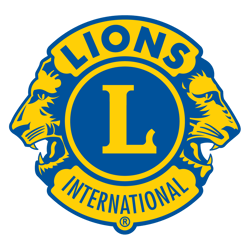 Clubs We've Sponsored
Blue Ridge Lions Club

Sugar Land Imperial Lions Club

Gulf Coast Seaport Lions Club
Sugar Land Lions in the News