SERVICE PROJECTS
𝐋𝐢𝐨𝐧𝐬 𝐬𝐞𝐫𝐯𝐞. It's that simple, and it has been since our organization first began with Melvin Jones in 1917. Our clubs are places where individuals join together to give their valuable time and effort to improving their communities, and the world. 𝐖𝐡𝐞𝐫𝐞 𝐭𝐡𝐞𝐫𝐞'𝐬 𝐚 𝐧𝐞𝐞𝐝, 𝐭𝐡𝐞𝐫𝐞'𝐬 𝐚 𝐋𝐢𝐨𝐧.
One Time Service Projects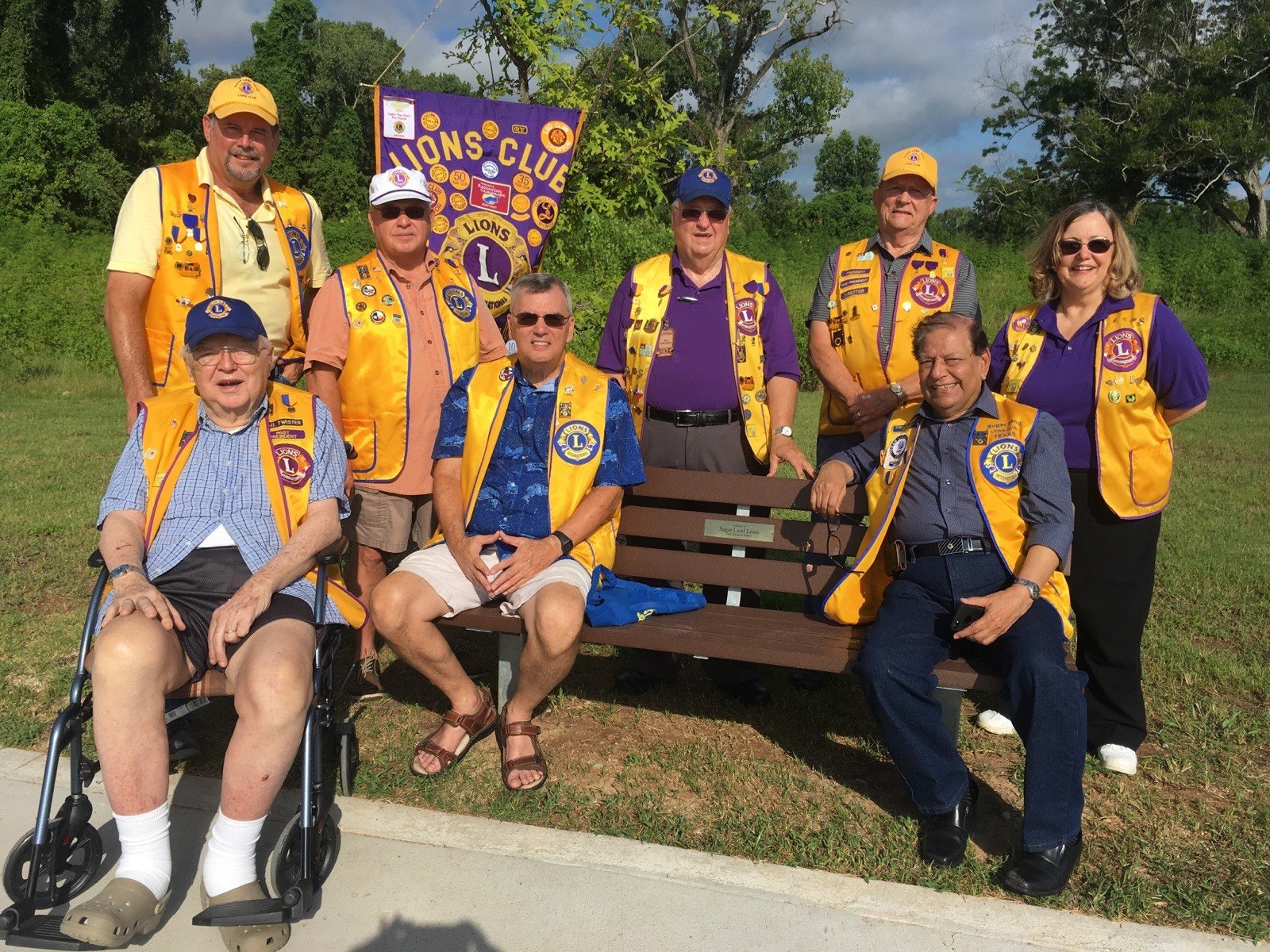 Signature Service Projects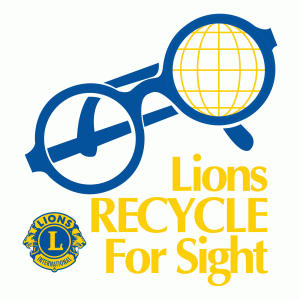 Texas Eyeglass Recycling Center (TERC)
Located in Midland, TX
Part of the Lions Recyle for Sight Program
Other locations in Texas

Conroe Noon Lions Club Eyeglass Recycling Center - Conroe, TX (our location)
San Angelo Lions Charities Eyeglasses Recycling Center - San Angelo, TX

Most refractive errors can be easily corrected with eyeglasses, yet millions living in low and middle income countries lack access to basic eye care services. Lions have recognized the urgent need for corrective lenses and collect usable glasses in their communities to support the Lions Recycle For Sight Program.

Donate your used/unbroken glasses and sunglasses both with & without lenses (prescription or non-prescription) as well as OTC readers and eyeglass cases.
Texas Lions Camp & TLC Work Day
Texas Lions Camp is a summer camping facility dedicated to serving children from the State of Texas with physical disabilities, Down syndrome, cancer and Type 1 diabetes. The camp is located on over 500 acres of hills and woodlands in the beautiful Texas Hill Country. Programs at Texas Lions Camp offer campers a chance to try new activities and create long-lasting friendships while developing greater self-esteem and independence.
Children eligible to participate in the summer camp program must be between the ages of seven and sixteen and have a qualifying physical disability.
Campers with Type 1 diabetes must be between the ages of eight to fifteen
Campers with Down syndrome must be twelve to sixteen years old.
The Sugar Land Lions attend the last work day session which is held the first weekend in May. All essential materials and equipment are provided; however, we're encouraged to bring any tools or items requested or believe will facilitate our individual project. Any personal protection items such as appropriate clothing, gloves, eye/hearing protection and the like are strongly encouraged. A delicious breakfast and lunch will be provided on Saturday. Most groups will leave by Saturday, later afternoon (~3:30). Membership in a Lions Club is not required to attend workdays. Workdays have become a great method of introducing non-Lions to the work of TLC and Lionism.
Project SMILE
After losing her son to a freakish accident, Carolyn Tarver started Project SMILE (Stan's Memory Includes Loving Everyone) in December of 1983 by taking gifts to twelve children who would be away from family during the holidays staying at a youth center in Richmond, Texas. Now the program provides over 1500 students with school supplies in Aug/Sept and over 2500 children with gifts at Christmas. Our club helps support their efforts monetarily as well as donating our time for backpack stuffing in early August at Bethel Ministries.
Vision Screenings
Current community partners: Access Health, Primary Care Clinic of Houston, Royal Oaks Lions Club (previously), Millennium Lions Club (previously). Vision screenings are performed using a Welch Allyn Spot Machine on anyone ages 6 months and older, with or without correction. For children, the purpose of vision screenings is to detect amblyopic (lazy eye) risk factors as the earlier they are detected, the better the outcome. For anyone, currently in glasses and/or contacts, a screening can tell them they will need an updated Rx. Vision screenings are a GREAT tool but in no way replace a comprehensive eye exam with your eye care provider.
White Cane Safety Days
International White Cane Safety Day (October 15th) is an opportunity to increase awareness about the white cane, which signifies that the pedestrian using it is blind or visually impaired, alerts motorists of the need to exercise special caution and provide the user the right of way, and symbolizes the independence, confidence and skills of the person who is using it. This is both a fundraiser and a service project. It is usually a Friday and Saturday event; historically held at Russo's Italian Restaurant in Sugar Land for the past several years. Monies collected are used to support programs and services for people who are blind or visually impaired as well as for sight conservation (i.e., Leader Dog, vision screenings, eye exams, Lighthouse of Houston, Lions Eye Bank of Texas, etc.).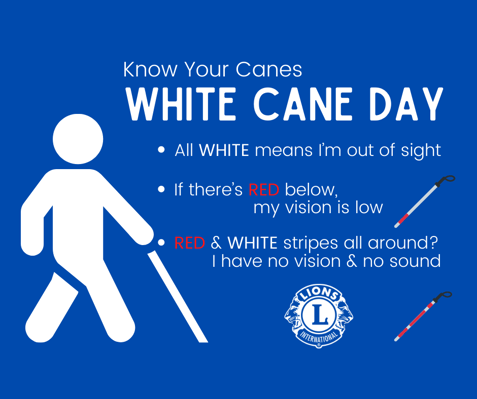 Richmond State Supported Living Center
The state supported living centers serve people with intellectual and developmental disabilities who are medically fragile or who have behavioral problems. Richmond opened in 1968. The 241-acre living center is home to 320 people. Vocational services provide residents with an on-site work center and the opportunity to work in community-based settings. The living center serves a 13-county area: Austin, Brazoria, Chambers, Colorado, Fort Bend, Galveston, Hardin, Harris, Jefferson, Matagorda, Orange, Waller and Wharton.
Sugar Land Lions Club sponsors at least (4) residents at Christmas. Our center liaison purchases the items & supplies and club members (plus a few friends) attend the annual wrapping party at the center in November.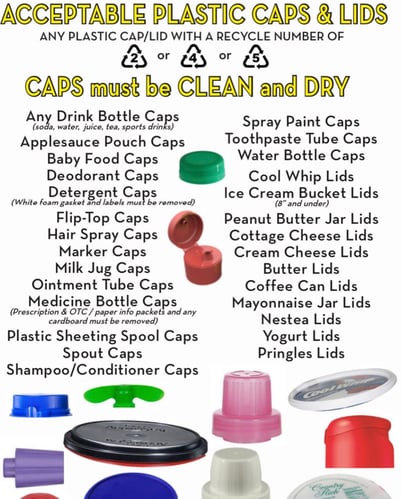 Plastic Bottle Cap Recycling
We always strive to be better stewards of our natural resources. However, we first started collecting plastic caps to turn into benches back in 2018 after the tragic Santa Fe school shooting at the request of the Santa Fe Lions Club. With the efforts of their surrounding community and the District 2S4 Lions Clubs, the students who wanted to create a memorial not only had enough for the 10 benches but enough for picnic tables as well by the start of 2020.
Currently, we collect caps to be recycled into medical plastics (both are #2 & #5 plastics) like flexible clear packaging, trays, basins, irrigation bottles, etc.
Whether you're accumulating caps for benches or medical equipment, all caps must be clean & dry. In addition, it takes numerous caps to be recycled into something else; for instance, a 6' bench requires 200 pounds of caps!
St. Laurence Leos
𝗔𝘀 𝘁𝗵𝗲 𝘆𝗼𝘂𝗻𝗴𝗲𝘀𝘁 𝗺𝗲𝗺𝗯𝗲𝗿𝘀 𝗼𝗳 𝗟𝗶𝗼𝗻𝘀 𝗖𝗹𝘂𝗯𝘀 𝗜𝗻𝘁𝗲𝗿𝗻𝗮𝘁𝗶𝗼𝗻𝗮𝗹, 𝗟𝗲𝗼𝘀 𝗲𝗺𝗯𝗼𝗱𝘆 𝘁𝗵𝗲 𝗯𝗲𝘀𝘁 𝗾𝘂𝗮𝗹𝗶𝘁𝗶𝗲𝘀 𝗼𝗳 𝗼𝘂𝗿 𝗶𝗻𝗰𝗿𝗲𝗱𝗶𝗯𝗹𝗲 𝗼𝗿𝗴𝗮𝗻𝗶𝘇𝗮𝘁𝗶𝗼𝗻. They are devoted young people who realize the power of action. Together, Leos and Lions form a powerful partnership - one of mutual respect, where Lions learn from the innovative insights of Leos, and where Leos gain access to the proven strategies of those who've successfully served the world for decades.
𝗧𝗵𝗲 𝗟𝗲𝗼 𝗖𝗹𝘂𝗯 𝗶𝘀 𝘁𝗵𝗲 𝗹𝗮𝗿𝗴𝗲𝘀𝘁 𝗰𝗹𝘂𝗯 𝗮𝘁 𝗦𝗟𝗖𝗦 and only 7th and 8th graders may join. It involves early morning, late-night, and weekend hours and is solely devoted to serving others. Some of the projects Leo Club members serve with include Helping Hands at SLCS, our Social Concerns Ministry's shoe drive, staffing booths at the St. Laurence Catholic Church Bazaar, Mamie George Food Distribution, and the Knights of Columbus Fish Fry during Lent. Bake sales and Kisses for Kids raise funds for those in need.
They are forever grateful for the inspiration Lion Jack Grounds gave their club and the legacy he left behind. As he proclaimed, so often, "We are here to serve", and the St. Laurence Leos strive to live up to that daily.
Presently, there are around 90 members under the advisement of Lion Leslie Buckle.
Cub Pack 148
The monthly pack meeting brings all of the dens in the pack, their leaders, & their families together for the purpose of recognizing the achievements of the Cub Scouts, communicating information about upcoming events, and providing a program that enriches the Cub Scouting experience. It helps the Cubs realize their den is part of a larger organization. Cub Scouting is for girls and boys in kindergarten through fifth grades, or 5 to 10 years of age.
Sponsored since 1961. Our Club Liaisons help with pack monthly meetings, activities, and ceremonies. They give reports to the club on Pack status at least 1-2 times a year. The liaisons encourage Lion/Pack sponsored activities and/or service projects.
Our current Cub Pack Liaisons are Lion Carol Clarkston, Lion Ella Aubin, and Lion Will Clarkston.
2022 Arrowhead Banquet Awards
2022 Charter Partner of the Year Award - Sugar Land Lions Club
Arrowhead District Chairman's Sparkplug Award - Lion Carol Clarkston
Arrowhead Honor - Lion Carol Clarkston
Boy Scout Troop 148
Chartered originally by Sugar Land Lions Club and sponsored for 68 years before dissolving in 2019.
Boy Scout Troop 1116
The board recently voted to become the new charter organization. More details COMING SOON!
Our current Scout Liaisons are Lion Carol Clarkston, Lion Ella Aubin, and Lion Will Clarkston.
Primary Care Clinic of Houston
The Primary Care and Rheumatology Clinic of Houston is a nonprofit 501(c)3 clinic that provides medical care to uninsured and underinsured adults (18+) in Missouri City, Texas and the surrounding areas. While new to Houston in May 2022, its sister clinics in the DFW area have been in operation since 2003 and were founded by the Irving DFW Indian Lions Club Foundation.
Our 2022-2023 Health Service Liaison Team: Lion Larry Stewart, Lion Kristyn Reed OD, Lion Teresa Gordon RN, Lion Lydia Ong PA-C, Lion Greg Damron DDS, and Lion Melissa Kwan MD.